Amani & Adem Joel w/ Kaminanda (Albuquerque, The El Rey April 1st)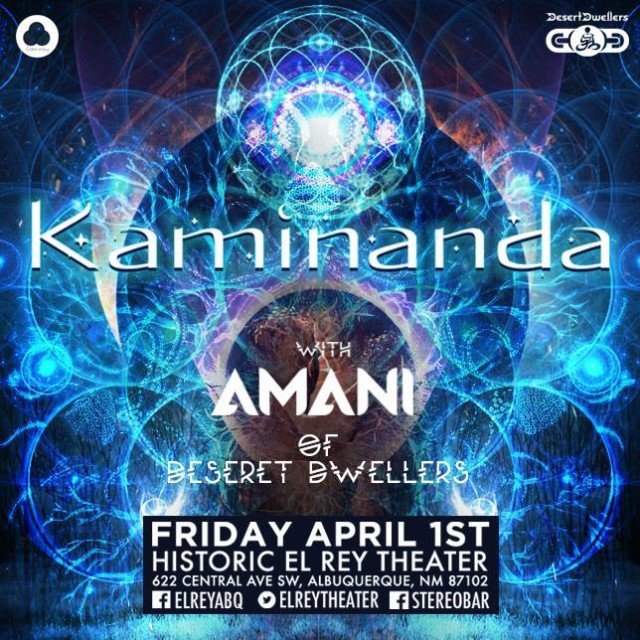 A limited supply of $4.99 tickets available through March 27th from elreyabq.com
KAMINANDA's ever-evolving sound is a playground of original Midtempo grooves, tribal rhythms, Psy-Dub, and lush downtempo textures. His music is designed to take the listener/dancer on a journey traversing landscapes reflecting a myriad of diverse influences; a kaleidoscope of warm melodies and twisting, winding compositions. With six albums in his repertoire, this organic spaceship of frequencies balances musicality ethereal soundscapes to evoke a deeper and hypnotic experience.
AMANI of Desert Dwellers, Liquid Bloom, and Variant Field is a trailblazing electronic music producer in the realms of electronic, dub and world fusion.
ADEM JOEL
Family Moons//Digital Desert
Https://http://familymoons.com/artists/adem
______________________________________
Frequently Asked Questions
http://www.elreyabq.com/#!info/c2q4
______________________________________
Transportation:
Download UBER for safe transportaion services, especially if you plan on drinking alcohol.
Promo Code: ELREYABQ
Valid for $20 off a first ride for new Uber users
Signup link: http://get.uber.com/go/ELREYABQ
______________________________________
Parking:
Use the website www.parkingpanda.com to see all available parking spaces in real time, pre-pay for a guaranteed spot, and save money! It has all parking location services directly on the site. Download the app for iPhone or Android from your App store: Parking Panda